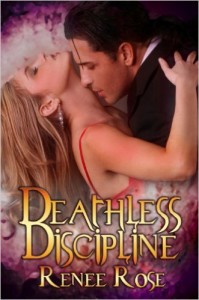 Steam:: Steam Level 5
Although spankings top the list of Kate's favorite activities with her vampire husband Dom, they are usually the highly erotic foreplay to making mind-bogglingly amazing love.
Not this time. Dom feels that he must lay down the law when Kate not only stays out much longer than she planned and doesn't answer his calls, but also lies to him about it. There's only one thing to do—give her a long, hard, bare-bottom discipline spanking that she will not soon forget.
Follow these characters from Renee Rose's full-length novel Deathless Love as their relationship continues to grow!
A bonus short story called Mary Catherine Learns Her Lesson is also included, which takes place at the No Return nightclub featured prominently in Deathless Love.
Publisher's Note: Deathless Discipline is a short story that includes both erotic and discipline spankings, graphic sexual scenes, and more. If such material offends you, please don't buy this book.
Get Deathless Discipline at Amazon
Get Deathless Discipline at Barnes and Noble
What format is this book in? eBook
Have you read this book or another by this author? Tell us about it in the comments!