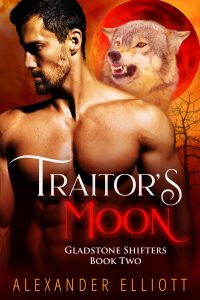 Steam Level: (Ranked from 1 to 5, as noted by the author): Steam Level 3
FREE May 8-10!
Equality doesn't come easily, and Ben Blair's Gladstone pack is about to pay the price. Amid plans for self-defense, Ben's Second, Nolan, is rejected by his mate. Even as Gladstone prepares for an epic battle, Nolan's heart aches for his beloved in the face of an uncertain future.
This second book in the series is packed with all the romance, drama, intrigue, and action you've come to expect. Welcome back old friends and exciting new characters as you follow the lives, love, and loss of the Gladstone Shifters in TRAITOR'S MOON! (May be read as a stand-alone.)
Have you read this book or another by this author? Tell us about it in the comments!
All information in this post was provided by the author and is not altered. We do this so that you the reader can decide to buy a book based on what the author says and how they present themselves and their book.