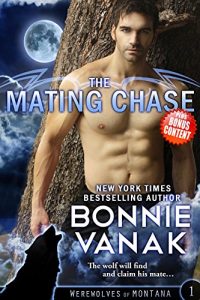 Steam: Steam Level 4
Welcome to the sensual world of the Lupine, where the burning drive to mate claims all…
Home from college, where men teased her for being overweight, Beth doesn't fit into pack life at the Mitchell ranch. Because she's forgotten how to shift into a wolf, the pack alpha has ordered her to choose a mate or leave. The only male Beth desires is Dale, a fiercely protective Lupine who loathes the human lifestyle she embraces. She hungers for the handsome shifter's touch, but fears their differences are too vast to overcome.
Dale has waited for four long years for Beth's return. Her scent ignites his desire and her voluptuous body fires his blood. He is determined to awaken her to the sensual world of the Lupine. Although she acts more "Skin" than wolf, he can't deny his overwhelming drive to claim her.
As the heat of passion threatens to consume them both, a new peril arises. Someone is killing a local rancher's livestock and blaming it on wolves, endangering the pack's ability to shapeshift. It will take all Beth's courage and Dale's skill to find the enemy threatening to destroy their world…
Get The Mating Chase (Werewolves of Montana Book 1) by Bonnie Vanak at Amazon
Have you read this book or another by this author? Tell us about it in the comments!