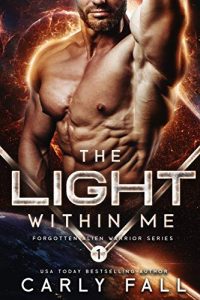 Steam: Steam Level 4
A shy, awkward social misfit. A man not from this Earth. A deadly enemy.
Abby, a journalist, may soon be out of a job if she doesn't land a groundbreaking story and feels she just may have stumbled on to one when she meets Noah.
As head of the military group dubbed the Six Saviors, Noah is from another world. His sole purpose is to hunt down the evil of his people that was unleashed on Earth hundreds of years ago. Anger and the need for revenge are his constant companions.
Noah tries desperately to fight his attraction to Abby so he can keep his focus on his mission. But when Abby gets dragged into the evil and mayhem from Noah's world, he realizes that maybe with Abby he can find a home here on Earth…if he can save her in time.
Get The Light Within Me (Forgotten Alien Warriors Book 1) by Carly Fall at Amazon
Get Audiobook
Have you read this book or another by this author? Tell us about it in the comments!