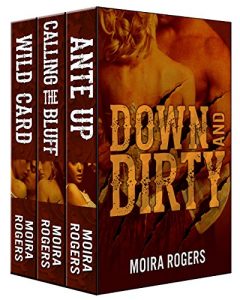 Steam: Steam Level 5
The complete Down & Dirty trilogy!
WILD CARD
As Alpha of the Lonely River Pack, Jack Owens is responsible for keeping the peace between what's left of the human population and the wolves who have taken over since the War. All wolves are his responsibility–even the ones like Virginia Howard, who don't recognize his authority.
Ginny's been a thorn in Jack's side since she took over her parents' operation and established herself as one of the area's premiere ranchers. The fact that she's everything he wants in a mate makes it hard to stay away from her…but any good hunter knows how to bide his time.
Ginny fights hard to maintain her independence from men, human and werewolf alike. The humans may not like having a woman as their chief competition, but they're not the ones determined to see her submit. When a group of angry wolves try to run her out of business, she's forced to accept Jack's assistance. But in saving her ranch, Ginny runs the risk of losing something far greater–her heart.
CALLING THE BLUFF
Hazel Young is a rare commodity in town: a young, single female whose first mating is nearly upon her, and she's spent the last two years fending off suitors. After all, there's nothing flattering about being wanted for the heat in her blood instead of for herself…especially when she gave her heart away to Oliver Russell years ago. But Oliver seems to feel nothing for her but fond kindness, and the time has come to choose a mate before the wolf makes the choice for her.
When Oliver happens across Hazel being pressured by a local who wants to be her first, it awakens protective instincts he thought he'd set aside with the death of his wife five years ago. With Hazel in heat and no time to get her to safety, they wind up in a fishing shack on Lonely River. They have no choice but to ride out her mating fever together…even if the last thing he expects is to be truly tempted by her inexperienced attempts at seduction.
ANTE UP
Thomas Crawford is Lonely River's Beta, and it's high time he settled down. He's had his eye on Charlotte Daniel, the owner of the Full Moon Saloon–and independent cuss of a woman–for months, but she either hasn't noticed his gentle courting… or she's ignoring him. But when some local wolves lodge a complaint about her questionable business practices it's Thomas' job to investigate, even if it means the woman he wants will hate him forever.
Lottie has noticed Thomas' courting, all right, but it's a little too polite for her tastes. She wants a man with fire and sensuality, not daisies and poetry. Then he kisses her. Once she gets a glimpse of the passion burning in him, Lottie decides a slow, careful seduction isn't a bad idea at all. But she'll do it her way.
Get Down & Dirty Series Bundle by Moira Rogers at Amazon
Have you read this book or another by this author? Tell us about it in the comments!