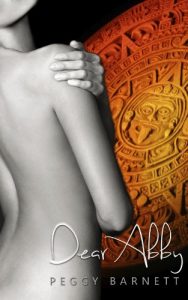 Steam: Steam Level 5
"Dear Abby" the letters begin, and Abigail has to answer each and every one with hokey travel advice that promotes her company's package tours. Sure, she gets to experience a dozen all-inclusive resorts every year, but there's only so much pina coladas and pool-side hamburgers a girl can stand.
So when a beautiful woman begins to pay Abby more than the standard amount of attention, Abby takes notice. After all, a nice vacation affair is just what she might need to liven up her trip. But then things start to get weird. A creepy black mark has appeared on Abby's palm, Abby's new lover is growing unusually possessive, and Abby… Abby can't seem to be able to have sex enough.
And it is great sex. But it's also just so weird. And sort of unearthly.
Abby's lover is named after a goddess, but she couldn't really be one… could she?
Get Dear Abby by Peggy Barnett at Amazon
Have you read this book or another by this author? Tell us about it in the comments!