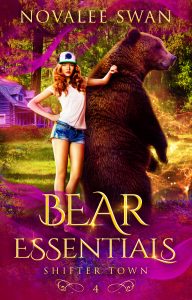 Steam Level: (Ranked from 1 to 5, as noted by the author): Steam Level 4
ON SALE $0.99. Ends 11 October. Regular price $3.99.
"Holy moly… this book! It was the best of the series thus far and one of my favorite shifter books to date." — Christine Justlovemybooks Book Blog
Connor Reid is complex. He's taller and stronger than anyone else and has never lost a fight. But the truth is, this grizzly bear shifter is as sweet as a summer breeze and shy as a prairie dog. He never planned to stay in Shifter Town. Then something happened that rocked his world.
Lily Amaretto hasn't known much kindness in her life, and never from a man. When she accepts a job working for the scariest male she's ever seen, it's about survival and redemption. She doesn't want to spend her life afraid of shadows, but did she really have to start with the most lethal man in existence?
What do two shy souls do when they want each other badly, but aren't quite sure how make it happen? Shifter Town is about to find out…
Bear Essentials is the fourth book in bestselling author Novalee Swan's Shifter Town series. It features her trademark heat and emotional intensity and is perfect for readers who love sexy shifter alphas and small-town charm.
About This Series
Rosewood, Tennessee—or Shifter Town, as the locals call it—has the biggest population of shifters co-existing with humans in the country. Lions, bears, wolves . . . you name it and this town has it. Along with more than its fair share of alphas. They're the lawmen, bartenders, construction workers. Ever met an alpha librarian? In Shifter Town you will. These strong, sexy men find their mates in the women of Rosewood, some willingly and some a little less so, but always in a story worth telling in this hot new series with small-town charm by Novalee Swan.
Get Bear Essentials at Amazon
Get Bear Essentials at Apple Books
Have you read this book or another by this author? Tell us about it in the comments!
All information in this post was provided by the author and is not altered. We do this so that you the reader can decide to buy a book based on what the author says and how they present themselves and their book.