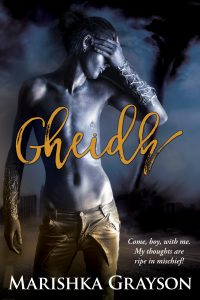 Steam/Violence Level: (Ranked from 1 to 5, as noted by the author): Steam Level 4
Gheidh is a furiously paced, darkly intense urban fantasy for those who like their heroes dirty and their villains fresh! Set initially in the near future, against an urban backdrop, Gheidh follows the adventures of a college student, Tate Akerberg and his encounter with a strange gang of fast-living, spoiled frat boys whose sole purpose seems to be to torment him. One of them, especially, seems to get under his skin, and it's all Tate can do to avoid him.
The book is a standalone fiction by author Marishka Grayson, who likes to write no-holds-barred dark fantasy fiction where the squeamish have a rough time and being a prude is a swear word. If you enjoy fun, moving and oftentimes slightly twisted love stories, Gheidh may be right up your dark and dirty alley.
Have you read this book or another by this author? Tell us about it in the comments!
All information in this post was provided by the author and is not altered. We do this so that you the reader can decide to buy a book based on what the author says and how they present themselves and their book.