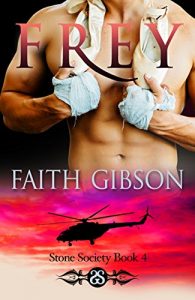 Steam: Steam Level 4
WARNING: Book 4 is full of love, pain, and redemption. This book contains Domestic Violence and non-consensual sex between spouses. It also has a HEA. This book is part of a series, therefore best if read in order.
Geoffrey "Frey" Hartley- soldier, helicopter pilot, boxer, martial arts expert – is the biggest, baddest Gargoyle shapeshifter in the Stone Society. After too much death and destruction, he hung up his dog tags. Now he is the owner of Lion Hart Dojo and Gym. For almost six hundred years, Frey has spent his life protecting humans while secretly praying for a family. Some of his Clan are finding their mates, but the fates aren't making it easy on any of them.
Abbi Quinn – teacher, wife, sister – is an abused, broken down young woman. After her parents' death when she was seventeen, Abbi hung up her dreams along with her ballet shoes. Married to an abusive, controlling man, Abbi can't remember what love feels like. When a stranger offers her a way out of her horrid situation, Abbi is torn. She tried leaving once before and the result almost cost her life.
When Frey finds his mate in the beautiful yet subdued Abbi, the pull between them is undeniable. He vows to find the smile hidden beneath her pain, to give her back her dreams, to see her dance. He will do whatever it takes to rescue her from the hands of her husband, even if it means protecting her from the sidelines.
Get Frey (Stone Society Book 4) by Faith Gibson at Amazon
Have you read this book or another by this author? Tell us about it in the comments!