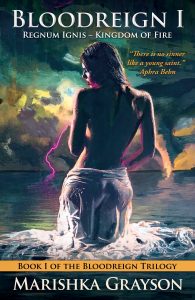 Steam/Violence Level: (Ranked from 1 to 5, as noted by the author): Steam Level 4
Since time immemorial, they have been among us.  Fierce creatures with a lust for human blood and an insatiable desire for human flesh.  To fornicate brings the highest pleasure, to beget, the deepest satisfaction. But what they cannot foresee, although it was foretold, is that one of them will arise among the many and cleanse the earth of their original sin.  I was caught in this struggle. I was loved and with this love, nearly destroyed.  This is my story, this was my beginning.
A dark paranormal romance, Bloodreign I is the erotically charged first volume of a new trilogy, chronicling a young woman's unwilling immersion into the shadowy realm of beings who have been operating secretly in our midst for centuries. Their passion knows no bounds, their savagery no end — for when you are all powerful, who can stop you?
Bloodreign is available for a limited time at half price!
Get Bloodreign I: Regnum Ignis – Kingdom of Fire at Amazon
Have you read this book or another by this author? Tell us about it in the comments!
All information in this post was provided by the author and is not altered. We do this so that you the reader can decide to buy a book based on what the author says and how they present themselves and their book.