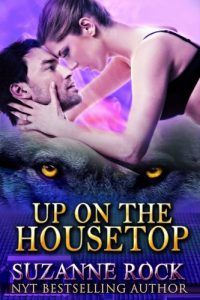 Steam: Steam Level 4
From the NYT and USA Today bestselling author of the Jungle Heat series comes a story of how members of a werewolf pack find their destined mates and put aside an age-old curse that had been ruining their lives.
Desperate to escape her controlling family, Chloe Bradford scrambles up to the housetop of her Texas home on Christmas Eve. There she discovers a sexy stranger cloaked in shadow. He convinces her to shed her good-girl image and give into her most secret desires. When he tries to leave, she follows him, eager to learn his identity.
Zach can't stop thinking about Chloe, or their reunion on the roof. His wolf-half urges him to reveal his identity and claim her, but he doesn't dare. For both their sakes, he must remain in the shadows until he can control his inner beast's bursts of rage. After five years he thought he could handle his curse, but Chloe's presence causes his control to slip. As the moon-rages become more frequent, he knows he's slipping toward the insanity that claims many of his kind. Only Chloe can save him, but will she want to after he reveals his identity and the reason he broke her heart so many years ago?
Get Up on the Housetop (Kyron Pack Series Book 1) by Suzanne Rock at Amazon
Have you read this book or another by this author? Tell us about it in the comments!