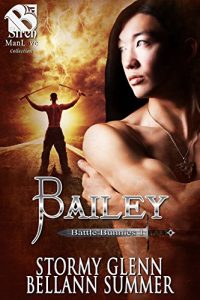 Steam: Steam Level 4
[Siren Everlasting Classic ManLove: Erotic Alternative Paranormal Romance, M/M, shape-shifters, HEA] They know a thousand ways to kill…and zero ways to love. As a Battle Bunny, honed in the fires of hell, Bailey fights every day just to function. Blind since birth, the skills he learned to protect himself after years of torture at the hands of a sadistic scientist keep him alive, but nothing can protect him from the mate he discovers on a rescue mission. Harvey Blackstone watched his brother die a slow agonizing death from behind the bars of the cage he had been tossed into. He vowed revenge on those that took his only family, if he survives that long. When the doors opened and the most stunning man he had ever seen steps inside, Vey is close to death. Discovering the man who rescues him is also his mate seems like a gift from the gods. Claiming Bailey is not the same as keeping him safe. The scientists that kept him prisoner are after them all, and it will take more than a family of Battle Bunnies to keep them all safe. It will take a miracle. ** A Siren Erotic Romance Bellann Summer and Stormy Glenn are Siren-exclusive authors.
Get Bailey [Battle Bunnies 1] by Stormy Glenn, Belllann Summer at Amazon
Have you read this book or another by this author? Tell us about it in the comments!