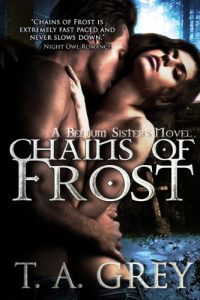 Steam: Steam Level 5
When a will from her dead father decrees spunky succubus Chloe into the protection of the renowned vampire commander, Tyrian en Kulev, she does what any succubus would do and casts a spell. But when that spell accidentally summons an ancient demon to kill her and her sisters, she knows only one place can keep her safe–Tyrian's castle of death set in the frigid icy snows of Northern Europe. Chloe thought she'd despise Tyrian, but instead she feels a rapidly blossoming tender for him. From the scar running along his cheek, to the bitter chill in his gaze, something about Tyrian makes Chloe want to keep him close until she could learn his true colors.
Leader of the Atal Warriors, Tyrian en Kulev always pays his debts. So, he resigns himself to what should be an elementary task. All he has to do is keep Chloe alive, then, debt paid. But the incredibly enticing succubus comes to him with a deadly demon trying to kill her and an alluringly upbeat attitude that invades his thoughts and soon his heart, whether he likes it or not.
Buy Chains of Frost to see a fun-loving succubus push a mysterious vampire leader to the brink of the wild. With nearly one million books sold, it's easy to see why readers love T. A. Grey's addicting romances.
Get Chains of Frost – Book #1 (The Bellum Sisters series) by T. A. Grey at Amazon
Get Audiobook
Have you read this book or another by this author? Tell us about it in the comments!