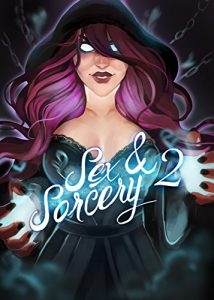 Steam: Steam Level 5
Forget sword and sorcery, this is Sex & Sorcery! Ten blistering stories featuring over 100,000 words of brand new erotic epic fantasy!
"Northern Oracle" by EC Revelle – Alone and near death, Varia is offered a vision of what might have been and a future that could still be. But can her body endure the Northern Oracle's price?
"A Harem Of Harpies" by Ian Saul Whitcomb – When aging mage Bron and barbarous jackal-man Chortle Bonegrinder encounter females most fowl in the badlands of a savage realm, more than feathers will be ruffled…
"The Uninvited Guest" by Elaine Rose – A beautiful widow, her mysterious guest, a first-time lesbian encounter – it's going to be one hell of a party!
"The Victor, The Spoils" by Jamie MacFrey – The Canians have always chosen their alpha males through the Dominance: ritual unarmed combat until one man is left standing. But Vel, the headstrong young leader of her tribe, is about throw tradition to the wind to make sure she gets the right man for the job.
"The Summoning" – Lilya Loring – Apprentice wizard Ekron defies his master and uses magic to summon his perfect lover. But is true love under his nose?
"Partners" by Ian Blackwood – Gordon and Elirel have been working together for years, ever since the elf saved him from a horde of goblins. He knows everything about his friend and comrade. Oh, except he's somehow failed to notice that she's a woman.
"Queen Takes Knight" by Belinda LaPage – In an ancient land of raven-haired, bronze-skinned warriors, Rose's red hair and freckles mark her as a pariah. Impossible to love, she will never feel the touch of a man, or so she believes until a stranger is brought to the prison where she tends the cells – a warrior from an alien land, his hair and skin like her own.
"The Dark Ones" by PT Winters – The appetite of the Dark Ones for corrupting virgins is legendary. But myths can be mistaken…
"A Shade's Choice" by Guinevere A Hart – An exclusive addition to the Hells Unleashed universe that reveals the darkly erotic history of Commander Finde, head of Ardyth'tol's most elite fighting force.
"A Thimble Of Sweet Honey" by Zoe Miller – As old loves rekindle and new ones burst into spectacular flame, conscientious faery Myna, carefree runt Kless, and a very lucky surprise guest settle in to enjoy a truly wonderful spring equinox.
So forget sword and sorcery, this is Sex & Sorcery!
Get Sex & Sorcery (S&S Book 2) by EC Revelle, Ian Saul Whitcomb, Elaine Rose, Jamie MacFrey, Lilya Loring, Ian Blackwood, Belinda LaPage, PT Winters, Zoe Miller, Guinevere A Hart at Amazon
Have you read this book or another by this author? Tell us about it in the comments!