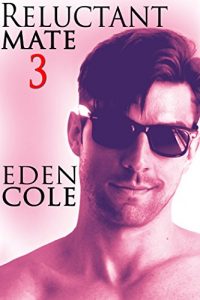 Steam: Steam Level 4
Alexi is asked to find the man responsible for creating a drug that makes humans into wolf shifters. Against his better judgment, he agrees. He's a jaguar shifter, and everyone knows there's no love between the two species. Alexi figures he'll get time to play with a piece he met not too long ago. He's not all that interested really, but what better way to piss off the haughty werewolves. To assist Alexi in his task, their leader calls in Jaren, a scientist. Alexi has never seen a more sexy, if repressed, man in his life, and the assignment has taken on a whole new direction. While he's searching for a werewolf that just might be stronger and more powerful than he's met before, Alexi tries to convince the nerdy Jaren that he is definitely not straight no matter how much he protests!
Get Reluctant Mate 3 by Eden Cole at Amazon
Have you read this book or another by this author? Tell us about it in the comments!