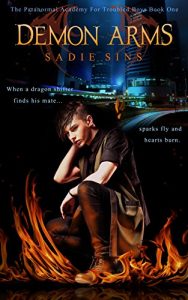 Steam: Steam Level 4
Wylie Doe has screwed himself once again with the help of his freakish demon arms. Sentenced to an academy for out of control paranormal boys, he finds himself surrounded by shifters, sorcerers, and halflings while facing an identity crisis. He has a dragon inside him that's in love with a sorcerer he's only just met.
Dorian Black is wealthy, cool, and extraordinarily powerful, but he hides a deadly secret. Drawn to Wylie and his alpha shifter ways, he can't stop his dangerous attraction or the literal sparks that fly between them. Wylie's everything Dorian's been dreaming of but isn't allowed to have.
When gangsters call Wylie out to face his past, he's ready to take responsibility for his mistakes. Will Dorian finally make a stand for the boy he's fallen for? Or will Wylie find out the hard way if his dragon scales can stop a downpour of bullets?
—–
This novel contains explicit m/m sexual content, graphic language and violence. Expect sexual tension, animal behavior, mating of a very wet variety, angst, bloodlust, an institution filled with hot paranormal boys, first time experiences and some sweet sap near the end. All sexually active characters are 18+
***The book that inspired the PATB Serial and The Paranormal Academy For Troubled Boys series. Thanks to all the Demon Arms fans and your continuing support! Love, Sadie Sins
Get Demon Arms by Sadie Sins at Amazon
Have you read this book or another by this author? Tell us about it in the comments!