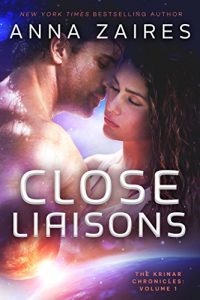 Steam: Steam Level 4
For college student Mia Stalis, the invaders—the beautiful, mysterious Krinar—are only stories on the news. Rumors about them abound: about their impossible strength and speed, their intentions toward Earth… their vampiric tendencies. None of it concerns her, though—until she catches Korum's eye.
Powerful and terrifyingly seductive, the Krinar leader will stop at nothing to possess her. Helplessly drawn to her magnetic captor, Mia is plunged into the dangerous, secretive world of the Ks and forced to choose between truth and lies, her people and her lover… her freedom and her heart.
Get Close Liaisons (The Krinar Chronicles Book 1) by Anna Zaires at Amazon
Get Audiobook
Have you read this book or another by this author? Tell us about it in the comments!