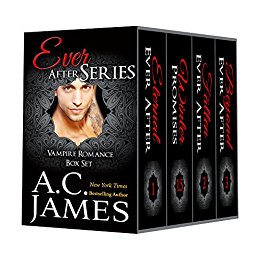 Steam: Steam Level 5
If you like paranormal romance box sets with alpha vampires then you'll love this!
Eternal Ever After – Book 1:
His past holds a secret that becomes her nightmare.
Arie Cush has a secret that he thought he'd left behind. When his past follows him to Chicago he must protect someone that reminds him of all the painful memories he's tried so hard to forget. But when every touch from her sets his heart and body on fire–he finds it hard to maintain his aloof façade.
Holly Ellis has secrets of her own. An encounter with the handsome stranger who frequents her coffee shop reveals a vampire with baggage. Even though it might be more than she bargained for, she can't resist the one person who understands her. But her life is in danger and a supernatural threat could reveal the underground world of vampires to humankind in this Gothic Cinderella re-telling.
Fallen Ever After – Book 2:
He can't lose her when danger strikes again.
Arie Cush wanted Holly from the very first moment he met her. A night at the Hellfire Club (HFC) is filled with old friends and new danger. The long-standing feud between the faeries that run the Chicago Crew and a lethal toxin puts Holly and other fledgling vampires in danger. Can they stop a vampire-fae war that's been brewing for nearly a century?
Beyond Ever After – Book 3:
The half-demon unleashed a force that can tear them apart.
On the night, Daeveena, a half-fey, half-demon walked out of the Hellfire Club, she left a tide of destruction, but everyone figured that was the end of it. No one imagined that she would steal something so valuable. Can Arie discover who is harboring her before he loses everything?
Reader Advisory: This book contains erotic paranormal romance with light bdsm and other adult themes.
Get Vampire Romance: Ever After Series (A Paranormal Romance Boxed Set) by A.C. James at Amazon
Get Audiobook
Have you read this book or another by this author? Tell us about it in the comments!